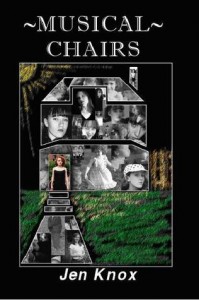 Musical Chairs
Jen Knox
Indie Memoir/YA







Available in…
• Mobi/Kindle
… from…
• Amazon
• MobiPocket
Also in paperback
Some time ago, Jen Knox and I swapped memoirs. She sent me a copy of Musical Chairs, which explores her family's history of mental health diagnoses, her years of strip-dancing, alcoholism, and estrangement, and her struggle for reconciliation. (That's from the cover.)
I also sent her a copy of Love through the Eyes of an Idiot. In full disclosure, just as I had started reading her book, Jen sent me an email about mine:
I finally posted my review of your delightful book. Oh how it made me remember how lucky I am to have found Chris after all the relationships (if you can call them that) that came before him. He thanks you. I thank you, for writing a great read.
Truthfully, I'm gratified that Jen enjoyed my book. And I did really want to like hers as well— I always want to like a book from a fellow author, and it upsets me when I don't. But I will tell you exactly what problems I had with Musical Chairs:
Read the rest of this entry »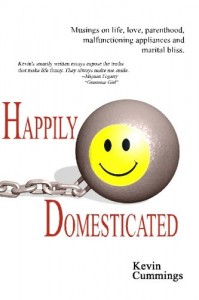 Happily Domesticated: Musings on life, love, parenthood, malfunctioning appliances and marital bliss
Kevin Cummings
Humor Essays







Available in…
• Kindle
… from…
• Amazon
Also in paperback
Some time ago, I asked humorist Kevin Cummings if I could interview him on one of my blogs. He agreed, and also sent me a personally autographed copy of Happily Domesticated (and I also sent him one my books in return). I enjoyed his book, and now I follow his humorous-essay blog religiously. So you can see, when it comes to reviewing this book, my opinion is obviously skewed.
So this morning, running late again, as I rushed through my shower and shave (Ow!), I tried to think of something useful to say about the book. It took me some months to finish it, because I'd pick it up when I was down, read one or two chapters, and that would lift my spirits. Kevin made me laugh sometimes even as Dave Barry does—which says something—and even after I set the book back down, it made everything seem funnier. I finally finished it last week, just in time to begin a memoir about post-traumatic stress disorder, which I promptly laughed at. (I guess I should've smoothed out the transition between those two books a little.)
The book contains 54 essays, most of them previously published on Kevin's blog and podcast, except for a dozen pieces from a newspaper humor column he used to write. He talks as a typical middle-aged male about a variety of topics, including marriage, children, health, home, and garbage disposals. Basically, Kevin gives useful advice on all the major issues that face middle-aged men today.
But what if you're not a typical middle-aged male? What if, for example, you're a newlywed, 20-something woman? Well, you too should read this book, because it will warn you what to expect in the years to come. And maybe if you're lucky, you can get out before it's too late.
Read the rest of this entry »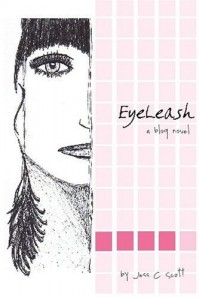 EyeLeash: A Blog Novel
Jess C. Scott
Contemporary Romance/ Alternative







Available in…
• HTML/TXT/RTF
• PDF
• Mobi/Kindle
• ePub/iPad
• LRF
• PDB
… from…
• Smashwords
• Amazon
• Barnes & Noble
• MobiPocket
Also in paperback
EyeLeash is the private journal of Jade, a 17-almost-18-year-old girl, who recently graduated from an all-girl high school. She wants to lose her virginity with Novan, a boy she knew from earlier in her life, and she struggles with how she should accomplish that.
Jess C. Scott sent me a PDF of EyeLeash, her first indie novel some months ago, in exchange for an electronic copy of one of my books. We also swapped blog interviews.
This novel is written in an alternative format, as a personal online journal, and it's risqué for a YA novel, because of all the talk about sex. Surprisingly, the format did not distract me, and the story kept my attention. It became clear to me early on that not only did Novan have an emotional attachment to Jade, but Jade also was whipping herself up into an emotional attachment to Novan, even though they both said there was nothing between them. As the story progressed, Jade descended from confused to disturbed to pitiful. I began to feel sorry for Novan, wanting to tell him just to forget about this girl, because she has to get herself together before she could be a viable partner to any man.
Jade spends too much time online, which seems to isolate her from those around her, including her parents, though she clearly doesn't realize it. This leaves her with some pretty crazy ideas about sex and some pretty dysfunctional obsessions. She dwells on sex with Novan almost exclusively, obsessively, so much that I sensed she was using these thoughts to cover up for something else that was troubling her, like her inability to love. Then when Novan backs off from the friends-with-benefits deal, she automatically assumes there's something wrong with her, while it was obvious even to me that it had nothing to do with her. (Don't worry about what people think about you, because if you knew how little time they actually spent thinking about you, then you'd really be worried. People spend more time figuring out what they want for lunch than they do thinking about you.)
Read the rest of this entry »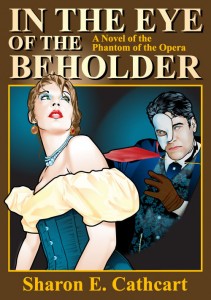 In the Eye of the Beholder: A Novel of the Phantom of the Opera
Sharon E. Cathcart
Historical Romance







Available in…
• HTML/TXT/RTF
• PDF
• Mobi/Kindle
• ePub/iPad
• LRF
• PDB
… from…
• Smashwords
• Barnes & Noble
Also in paperback
In the Eye of the Beholder stars Erik, the Phantom of the Opera, and is set some time within the epilogue of the famous story by Gaston Leroux. But the real story of In the Eye of the Beholder revolves around the heroine, Claire, an educated but simple woman, who had lost her fiancé, the only man she loved, in a disaster just before they were to be married. Even though she is intelligent and capable, because of the way the law is written, her cousin has been given complete control over her estate, unless and until she marries, leaving her with no possessions and little spending money. She gently tends and performs with the horses at the opera house, a job that embodies her passion… until someone tries to murder her and make it look like an accident.
My first impression: If 90% of everything is crap, then this definitely falls within the remaining 10%. And in the end, I retained that impression, even though along the way, I had a number of complaints:
For those of us (like me) who had never read the original Phantom of the Opera, I would have appreciated just enough background to understand Erik's predicament.
Just under half through the story, the story really slowed down, so much so that I felt no reason to read on.
The plot structure turned out to be a series of tales strung together by boring bits, reminiscent of (my worst memories of) The Pickwick Papers.
I never understood why Claire feared Erik might possibly, could ever conceivably, leave her. Either I missed that part, or else it simply wasn't there.
I didn't like the ending. In fact, I skipped the epilogue after reading its first sentence, preferring instead to imagine my own ending.
Yet for all those complaints, I still ended up rating it 5 stars. Yes, I teetered on the edge between 4 and 5, but I finally came down on the higher side. Why?
Read the rest of this entry »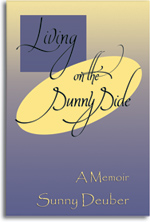 Living on the Sunny Side: A Memoir
Sunny Deuber
Memoir







Available in:
• PDF (free download)
… from…
• SunnySideBook.net
Also in paperback
She tried to travel light, by packing everything she needed in a carry-on. Then she found out the gate for her connecting flight was about two miles from the arrival gate, and she only had ten minutes to get there. The carry-on got much heavier, and the price she paid was a lot more than the cost of checking one lousy suitcase.
The same is true of the emotional baggage we all carry with us, the anger and bitterness.
Such is the adventure of Sunny Deuber's life, from California to the Yosemite high country to North Carolina and back again. Through four painful marriages, several careers, and a near-death experience.
"Writing it was truly a voyage of self-discovery, understanding, and healing," Sunny says. "I hope some of my insights and discoveries might start a few readers on their own paths to traveling lighter by losing some 'baggage' themselves."
Read the rest of this entry »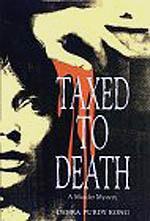 Taxed to Death
Debra Purdy Kong
Mystery/Suspense







Available in:
• Mobi/Kindle
• ePub/iPad
• PDF
• HTML
… from…
• Amazon
• MobiPocket
• AllRomanceEbooks
• OmniLit
Also in paperback
When Revenue Canada auditor Alex Bellamy discovers that $150,000 is missing from Ice Craft Jewelers inventory, someone from Special Investigations suddenly takes him off the case. But Alex decides to keep investigating anyhow, and before he knows it, his best friend is dead—suicide, if you can believe it. Moreover, someone is chasing Alex himself, and he must turn to Jillian Scott, a woman he's never met and who is as afraid of him as he is of being caught. Soon, her fears and his search embroil them in a bizarre and disturbing nightmare.
I read Taxed to Death as part of a review-exchange on GoodReads: I read someone's book, and someone else reviews one of mine. To that end, and short of cash, I purchased a copy of Debra Purdy Kong's Taxed to Death on the used market. This is the first in the Alex Bellamy series, the second being her more recent release, Fatal Encryption. But I couldn't find a used copy of the more recent title, and I thought it would probably be best to start with the first in the series, anyhow.
The book started by throwing names and facts at me, as many mysteries do. Unfortunately—maybe because I'm dense—I didn't get what was happening until later in the story. The story is billed as a mystery, but in some ways, it reads more like a suspense novel… except that I didn't understand the characters, at all. In fact, the major viewpoint character, Les Silby, who gets the most screen-time, he's one of the suspects. Him I got, at least as much as I could without knowing his full role until the end. Alex and Jillian, the hero and heroine of the story, I had no idea why they did most of the things they did.
Read the rest of this entry »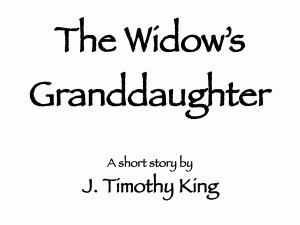 "The Widow's Granddaughter," an original short story (about 12,000 words), now released as a free eBook.
Marietta is a pretty, young woman who has had one bad relationship after another, starting with her parents. Fortunately, they were gone for most of her life. She grew up living with her grandparents. Having returned home, she now finds her life taking a turn for the better, after she seduces a man as a bribe to help her grandmother.
Since this is my own book, I'm not reviewing it. But if you read it, please post a comment below, or on Smashwords or on Lulu.
-TimK
P.S. Additional eBook formats are available in the Smashwords edition.