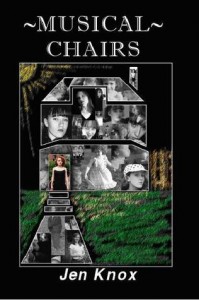 Musical Chairs
Jen Knox
Indie Memoir/YA







Available in…
• Mobi/Kindle
… from…
• Amazon
• MobiPocket
Also in paperback
Some time ago, Jen Knox and I swapped memoirs. She sent me a copy of Musical Chairs, which explores her family's history of mental health diagnoses, her years of strip-dancing, alcoholism, and estrangement, and her struggle for reconciliation. (That's from the cover.)
I also sent her a copy of Love through the Eyes of an Idiot. In full disclosure, just as I had started reading her book, Jen sent me an email about mine:
I finally posted my review of your delightful book. Oh how it made me remember how lucky I am to have found Chris after all the relationships (if you can call them that) that came before him. He thanks you. I thank you, for writing a great read.
Truthfully, I'm gratified that Jen enjoyed my book. And I did really want to like hers as well— I always want to like a book from a fellow author, and it upsets me when I don't. But I will tell you exactly what problems I had with Musical Chairs:
I ran across numerous line-editing issues, including misspelled words, bad punctuation (like ending a sentence with a comma, in at least two places), and sentences that made no sense in context. The best typo I found on page 152, where Jen wrote about working at the bookstore: "As I cleared dust from a self in the psychology section…" So, was that an ego or an id? (Ba dum bum.)

Some details were missing from spots in the story where I would naturally expect them, popping up as surprises elsewhere. For example, all the time Jen was staying with Miss Sarah and her daughter (in the chapter entitled "Miss Sarah"), I thought Sarah was a white, single mother. It was only much later in the book that I was told that Sarah (or at least her daughter) had darker skin, that she was married to a Latino who had treated Jen rudely, and that she had some pretty bizarre racial ideas.

Jen begins with a panic attack, and she concludes as the panic attacks disappear… I think. I have nothing against waxing eloquent, as she did in the epilogue; I'm just not sure how she concluded the story. (But otherwise the epilogue did leave me feeling uplifted and satisfied.)
All of my complaints were counterbalanced, however, by the fact that I literally couldn't put the damn book down! That's why I've been absent this week. I blew through the entire thing in a little over a day, immersing myself in her story every moment I could. Really, no joke, no exaggeration: I read until I got tired; then I napped, woke up, and continued where I left off; lather, rinse, repeat.
Truthfully, before I started the book, I half expected a melodramatic pity party for a life beset by personal tragedy and self-destruction. On the contrary, Jen drew me into her story, the story of a girl I could hardly believe existed.
At one point, I reclined in a hot bath with Jen's book in one hand and a cup of Earl Grey in the other. I looked at the cup, a commemorative mug, dated November 20, 1994, for the centennial anniversary of the facility at which my Beloved interned. I suddenly realized that at that very time, Jen had run away from home, 15 years old, and was living with her 19-year-old boyfriend. My Beloved was about to launch her career, and during the same autumn, Jen was about to launch herself into boyfriends and sex and statutory rape and the real thing, erotic dances for money, fights and alcohol and the battle for control and delusions and psychosis and abandonment— But through it all, Jen seemed so… normal to me. I genuinely sympathized with her, felt for her in her quest, desired to reach out to her and provide what I saw she was missing in her life. And I smiled when she finally began to find it.
This is the reason I read independent memoirs, to meet people I might never otherwise know, through them to live experiences I could never otherwise fathom, and to win victories I would never otherwise have even pursued. And Musical Chairs generously filled that need.
-TimK
Musical Chairs
Jen Knox
Indie Memoir/YA


Available in…
• Mobi/Kindle
… from…
• Amazon
• MobiPocket
Also in paperback
Did you enjoy this post? Why not leave a comment below and continue the conversation, or subscribe to my feed and get articles like this delivered automatically to your feed reader.