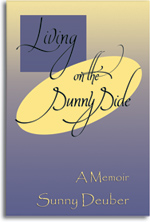 Living on the Sunny Side: A Memoir
Sunny Deuber
Memoir







Available in:
• PDF (free download)
… from…
• SunnySideBook.net
Also in paperback
She tried to travel light, by packing everything she needed in a carry-on. Then she found out the gate for her connecting flight was about two miles from the arrival gate, and she only had ten minutes to get there. The carry-on got much heavier, and the price she paid was a lot more than the cost of checking one lousy suitcase.
The same is true of the emotional baggage we all carry with us, the anger and bitterness.
Such is the adventure of Sunny Deuber's life, from California to the Yosemite high country to North Carolina and back again. Through four painful marriages, several careers, and a near-death experience.
"Writing it was truly a voyage of self-discovery, understanding, and healing," Sunny says. "I hope some of my insights and discoveries might start a few readers on their own paths to traveling lighter by losing some 'baggage' themselves."
Right from the beginning, the story started with a bang, just the way I like them. It felt unfiltered at times, more like a chronology than a memoir. But I willingly bore with this arrangement of certain details, in order to comprehend the person behind those details.
But in a way, Sunny's is a sad story. Yes, her adventures excited me, but the relationships often felt bitter. It seems each one ended in crap, and I ended up pitying her. During my reading, I jokingly proposed a subtitle for the memoir: Living on the Sunny Side: Sometimes Life Sucks. The best part of the story is about the thrill of the adventure, that the adventure is worthwhile for its own sake, no matter how it turns out. And it wasn't until near the end of Sunny's life, while she was penning this memoir itself, that she learned forgiveness.
"As I began to understand," she writes in the epilogue, "I also began to forgive…
"Learn to forgive," she urges, "or at least understand, so you can shed your own emotional baggage and move forward into the future with renewed hope and excitement. You'd be surprised at how much just 'getting over it' can improve your outlook, your life, and even your health!"
All in all, I enjoyed this look into a life from an older generation, a life that I would not be able to experience otherwise. I will definitely continue searching for more independent memoirs, like this, to read, because it gives a privileged view into the mind of someone so much unlike myself, someone I was happy to have met by reading her story.
-TimK
Living on the Sunny Side: A Memoir
Sunny Deuber
Memoir


Available in:
• PDF (free download)
… from…
• SunnySideBook.net
Also in paperback
Did you enjoy this post? Why not leave a comment below and continue the conversation, or subscribe to my feed and get articles like this delivered automatically to your feed reader.