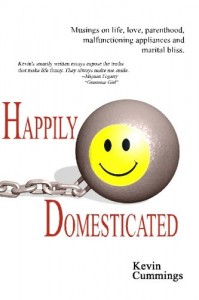 Happily Domesticated: Musings on life, love, parenthood, malfunctioning appliances and marital bliss
Kevin Cummings
Humor Essays







Available in…
• Kindle
… from…
• Amazon
Also in paperback
Some time ago, I asked humorist Kevin Cummings if I could interview him on one of my blogs. He agreed, and also sent me a personally autographed copy of Happily Domesticated (and I also sent him one my books in return). I enjoyed his book, and now I follow his humorous-essay blog religiously. So you can see, when it comes to reviewing this book, my opinion is obviously skewed.
So this morning, running late again, as I rushed through my shower and shave (Ow!), I tried to think of something useful to say about the book. It took me some months to finish it, because I'd pick it up when I was down, read one or two chapters, and that would lift my spirits. Kevin made me laugh sometimes even as Dave Barry does—which says something—and even after I set the book back down, it made everything seem funnier. I finally finished it last week, just in time to begin a memoir about post-traumatic stress disorder, which I promptly laughed at. (I guess I should've smoothed out the transition between those two books a little.)
The book contains 54 essays, most of them previously published on Kevin's blog and podcast, except for a dozen pieces from a newspaper humor column he used to write. He talks as a typical middle-aged male about a variety of topics, including marriage, children, health, home, and garbage disposals. Basically, Kevin gives useful advice on all the major issues that face middle-aged men today.
But what if you're not a typical middle-aged male? What if, for example, you're a newlywed, 20-something woman? Well, you too should read this book, because it will warn you what to expect in the years to come. And maybe if you're lucky, you can get out before it's too late.
Some of my favorite chapters (which I picked completely at random, because I'm lazy) include: "Home Despairs," in which he tries to replace a broken garbage disposal—You thought I was making that up, didn't you?—"She Knows All," in which Kevin ruminates on how intelligent and capable his lovely wife is, "Teenage Standard Time," in which he talks about the time zone that his kids live in, and "Commercial Theater," all about TV commercials.
But seriously, don't judge Kevin's writing by the quality of my jokes in this review. ("What jokes"? What do you mean, "What jokes"?!) Instead, check out HappilyDomesticated.com and support his work.
-TimK
Happily Domesticated: Musings on life, love, parenthood, malfunctioning appliances and marital bliss
Kevin Cummings
Humor Essays


Available in…
• Kindle
… from…
• Amazon
Also in paperback
Did you enjoy this post? Why not leave a comment below and continue the conversation, or subscribe to my feed and get articles like this delivered automatically to your feed reader.