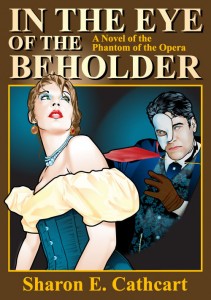 In the Eye of the Beholder: A Novel of the Phantom of the Opera
Sharon E. Cathcart
Historical Romance







Available in…
• HTML/TXT/RTF
• PDF
• Mobi/Kindle
• ePub/iPad
• LRF
• PDB
… from…
• Smashwords
• Barnes & Noble
Also in paperback
In the Eye of the Beholder stars Erik, the Phantom of the Opera, and is set some time within the epilogue of the famous story by Gaston Leroux. But the real story of In the Eye of the Beholder revolves around the heroine, Claire, an educated but simple woman, who had lost her fiancé, the only man she loved, in a disaster just before they were to be married. Even though she is intelligent and capable, because of the way the law is written, her cousin has been given complete control over her estate, unless and until she marries, leaving her with no possessions and little spending money. She gently tends and performs with the horses at the opera house, a job that embodies her passion… until someone tries to murder her and make it look like an accident.
My first impression: If 90% of everything is crap, then this definitely falls within the remaining 10%. And in the end, I retained that impression, even though along the way, I had a number of complaints:
For those of us (like me) who had never read the original Phantom of the Opera, I would have appreciated just enough background to understand Erik's predicament.
Just under half through the story, the story really slowed down, so much so that I felt no reason to read on.
The plot structure turned out to be a series of tales strung together by boring bits, reminiscent of (my worst memories of) The Pickwick Papers.
I never understood why Claire feared Erik might possibly, could ever conceivably, leave her. Either I missed that part, or else it simply wasn't there.
I didn't like the ending. In fact, I skipped the epilogue after reading its first sentence, preferring instead to imagine my own ending.
Yet for all those complaints, I still ended up rating it 5 stars. Yes, I teetered on the edge between 4 and 5, but I finally came down on the higher side. Why?
If you think it's because Sharon gave me a free copy of her e-book, think again: she didn't. I actually paid for this one out of my own, limited funds. Actually, I got it at a discount during read-an-e-book week, as did I hope many other readers.
So then, you might think that my rating is because I've had Sharon for an interview over on my personal blog, and since then, we've kept in touch. All buddy-buddy, eh? At least that explanation is plausible. But Sharon has promised to love me no matter what I say here, "Pickwickian references aside." (Grin.) And frankly, I'm glad about that, because it gives me the emotional freedom to say what I really think, as I want to, as I feel obligated to you to, as I did above.
After all that, I ended up giving In the Eye of the Beholder 5 stars, simply because if the next book I read has all the characteristics of this one, that would make me very happy, because of all the things this story did right. The characters captivated me. I ended up thinking of Claire as an actual person, inconsistencies and all. The story dealt with a real issue, and one close to my heart, the human need to love and be loved. A theme that (whether Sharon intended it or not) strikes more deeply than the title implies: Not just that beauty is in the eye of the beholder. That everyone needs some sympathy with others, in order to survive.
At one point in the story, Claire and Erik even get to meet Joseph Merrick, a delightful surprise that made my day. I usually don't get worked up over gimmicks, but that was très kewl.
-TimK
In the Eye of the Beholder: A Novel of the Phantom of the Opera
Sharon E. Cathcart
Historical Romance


Available in…
• HTML/TXT/RTF
• PDF
• Mobi/Kindle
• ePub/iPad
• LRF
• PDB

… from…
• Smashwords
• Barnes & Noble
Also in paperback
Did you enjoy this post? Why not leave a comment below and continue the conversation, or subscribe to my feed and get articles like this delivered automatically to your feed reader.