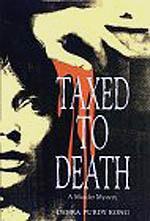 Taxed to Death
Debra Purdy Kong
Mystery/Suspense







Available in:
• Mobi/Kindle
• ePub/iPad
• PDF
• HTML
… from…
• Amazon
• MobiPocket
• AllRomanceEbooks
• OmniLit
Also in paperback
When Revenue Canada auditor Alex Bellamy discovers that $150,000 is missing from Ice Craft Jewelers inventory, someone from Special Investigations suddenly takes him off the case. But Alex decides to keep investigating anyhow, and before he knows it, his best friend is dead—suicide, if you can believe it. Moreover, someone is chasing Alex himself, and he must turn to Jillian Scott, a woman he's never met and who is as afraid of him as he is of being caught. Soon, her fears and his search embroil them in a bizarre and disturbing nightmare.
I read Taxed to Death as part of a review-exchange on GoodReads: I read someone's book, and someone else reviews one of mine. To that end, and short of cash, I purchased a copy of Debra Purdy Kong's Taxed to Death on the used market. This is the first in the Alex Bellamy series, the second being her more recent release, Fatal Encryption. But I couldn't find a used copy of the more recent title, and I thought it would probably be best to start with the first in the series, anyhow.
The book started by throwing names and facts at me, as many mysteries do. Unfortunately—maybe because I'm dense—I didn't get what was happening until later in the story. The story is billed as a mystery, but in some ways, it reads more like a suspense novel… except that I didn't understand the characters, at all. In fact, the major viewpoint character, Les Silby, who gets the most screen-time, he's one of the suspects. Him I got, at least as much as I could without knowing his full role until the end. Alex and Jillian, the hero and heroine of the story, I had no idea why they did most of the things they did.
As a side-effect, because the story can't give away the ending, it frequently gave me a partial view, blanking out obvious things that the viewpoint character could see and was thinking about. Now, I'm not an expert in the mystery genre. As I recall, the mysteries I've read have achieved this effect simply by staying in the mind of the detective. Suspense novels, not so much, but in a suspense, it's more important to maintain the tension between hero and villain, rather than to keep secret who the villain is. I'm not sure I liked the effect in Taxed to Death.
The story did get better near the end, as the situation became clear and the forces of evil began to close around our heroes. Even so, I never understood why Alex and Jillian did most of what they did, or felt what they felt, or thought what they were thinking. This is extremely important to me, because rich, three-dimensional characters are key to a good story. And these characters just fell flat.
This story is also missing a theme, as far as I can tell. I had originally expected something like: financial fraud is about more than money. (And that could be the theme of the story… maybe, kinda.) Or: we all pay when someone embezzles funds. (And I didn't get that at all from this story.) Much less did I see an uplifting, character-based theme. It simply wasn't that kind of book.
After all of that, I do hope to read the next book in the series Fatal Encryption. Why? Well, Taxed to Death is Debra Purdy Kong's first book, published 15 years ago. That means that Debra probably put more into it than any other story she's written, but also that it reflects her inexperience as an novelist. I'm hoping that Fatal Encryption, which came out just a couple years ago, gave her a chance to address some of the storytelling issues I noticed in Taxed to Death. Most importantly, I'm hoping she has gotten better at characterizing her characters, and I really want to get to know Alex Bellamy.
-TimK
Taxed to Death
Debra Purdy Kong
Mystery/Suspense


Available in:
• Mobi/Kindle
• ePub/iPad
• PDF
• HTML
… from…
• Amazon
• MobiPocket
• AllRomanceEbooks
• OmniLit
Also in paperback
Did you enjoy this post? Why not leave a comment below and continue the conversation, or subscribe to my feed and get articles like this delivered automatically to your feed reader.